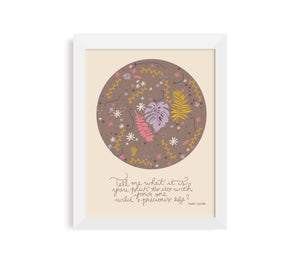 Lane Paper Works
"Jess" - Wild + Wonderful Life Print
Regular price
$15.00
$0.00
"tell me what it is you plan to do with your one wild and precious life?" -Mary Oliver; 8X10 original illustration printed on heavy duty card stock. 

A dear friend of mine's battle with cancer came to an end. She was 29. She was one of the kindest people I've ever met. She loved Mexican food, Lowes was one of her favorite places in the world, and she would tell anyone they need to go to Vegas at least once in their life. She graciously indulged all of my wood working projects for this business. She built my card shelves for the store and my display I take with me to shows. Her legacy of courageous faith, bravery, and love live on. She leaves behind her loving husband and two beautiful boys. She had such a will to live so the concept of life and living have been on my mind all week. She lived her life to the fullest even in the midst of her hardest battle and she did so with such strength and grace. Use your time here on this beautiful earth wisely and love deeply. Your life is wild + precious.
This print was inspired by my dear friend, Jess so it is named after her and proceeds from it will go to The Breast Cancer Research Foundation in memory of her, her fight, and her beautiful soul. 
The Breast Cancer Research Foundation is the highest-rated breast cancer organization in the US. They fund over 300 researchers across the globe who are working to find a cure for this pervasive disease once and for all.
Xoxo - Sydney Lane, Lane Paper Works
July '19
*frame not included*
---
More from this collection